Filter Cartridges and Pleated Bags
Standard Filter offers a wide variety of industrial and commercial cartridge filters. In most cases cartridges can be custom made in various sizes and constructions to fit your specific requirements, along with high temperature capabilities, fire retardant, PTFE membrane, conductive and high efficiency type materials. Standard Filter also provides various pleat spacings and pleat depths.
Below is a brief listing of available filter materials and top and bottom constructions.
Samples of the 100% Cellulose, 80%/20% Cellulose/Polyester and Spun Bond Polyester materials are available upon request.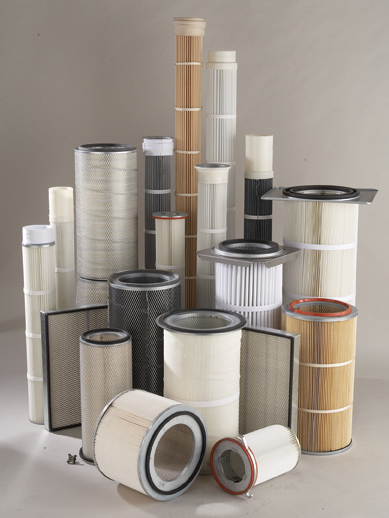 Standard Filter provides cartridges for many cartridge type collectors including the following:
100% Cellulose 80/20 Cellulose/Polyester 50/50 Cellulose/Polyester 100% Cellulose Flame Retardant
100% Spun Bond Polyester 100% Spun bond Polyester w/PTFE 100% Polyester Hydro/Oleophobic
All types, please call for details
Round ¢ 14x16 Rectangular Flange ¢ Screw Mount ¢ Gaskets
Open Closed ¢ Closed with Bolt Hole
Various internal and external supports are available upon request